Several "how-to" articles on wiring payphones to work, building a test cable and wiring any phone to work with TT have been added here.

Check out Chuck's Old Telephone Blog.

We have introduced a guestbook. Please visit and sign the guestbook.
Like old phones? There might be a telephone show at a town near you. Check out the Antique Telephone Collectors Association website for upcoming telephone shows on the events page
FEATURED PHONE
is the Western Electric A1 desk phone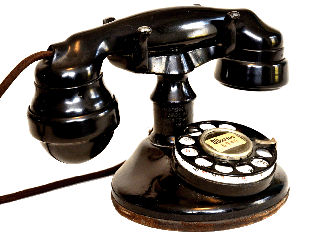 This is the first desk phone of the Bell System that had a complete one piece handset c1927-28. This phone had a short run prior to introducing the "202" common round based B1 and the oval based D1 which were prevelant throughout the 1930's.

Photo ©Chuck Eby